Spring is Here: CRM Data Clean-Up
Apr 20, 2022
Have you considered the hygiene of your CRM Data?
Yes, dirty data could be a major problem in your organization. Maybe you have been doing some spring cleaning around the house. Well, it's also a good time to give your CRM data clean-up.
Clean, organized, and accurate data is essential for the success of your sales and marketing efforts. This is the data you use for personalization of your marketing campaigns and automations.
How Does Your CRM Data Get "Dirty" to Begin with?
"Dirty" or bad data is information in your CRM that is inaccurate, duplicate, missing, outdated, or simply input in the wrong format. These are the most common ways for your CRM to have "dirty" data.
1. Information gets outdated every year...
40% of email users change their email address at least once every two years

20% of postal addresses change each year

18% of phone numbers change every year

60% of people change job functions within their organization every yea
If you are lucky, your CRM may have a data enrichment tool included to help you keep data up to date. For example, Zoho CRM's Zia. "Zia crawls pages from across the Internet and retrieves you additional information about the record, such as company size, phone number and address and other details... Zia does not store the user's [Contact, Lead or Account] input anywhere. It only uses them as keywords to search for more information about the record." It uses the Bing Web Search API to look up information to enrich a record from public websites.
2. Users Enter Incorrect Information
The most common problem we face with CRM data clean-up stems from your actual users. When your team is manually inputting data, they may enter information in the incorrect format or field. Users may also enter data with typos. A typo in the Company field, for example, may also lead to the creation of a duplicate record.
Data imports can often be a major problem too. If your team has imported data without first reviewing and cleaning it, then hundreds of records could include incorrect data. Simple mistakes such as incorrectly formatting the fields in the excel file can also cause problems.
3. Online Forms With Bad Data
There may also be issues with the online forms that prospects fill out. One problem could be with how a prospect entered information into a form - maybe including a typo in one of the fields. Alternatively, how the form is set up to carry information from the online form and into the CRM could be a problem. If the set up of a form has a field in the online form mapped to the wrong field in the CRM record.
Right off the bat, your data entered into the CRM may be bad. And if no one on your team is responsible for reviewing and cleaning up that data on a regular basis, then it stays in the CRM that way.
How "Dirty Data" Impacts Your Sales and Marketing
This may be obvious, but bad data causes your sales and marketing teams to make mistakes that reflect poorly on the company. When an email automation is set up in your CRM, dirty data might lead to incorrect information to be inserted into that email or the automation is wrongfully triggered. A sales person may be emailing or calling the wrong person if the data is incorrect. Wasting time and human resources are draining on any organization.
It's Time for a CRM Data Clean-Up
A simple suggestion for your organization is scheduling an annual data clean-up. Assume that it may take one full day of work, so plan accordingly - either setting aside 1 hour per day over a week's time or a single data cleaning day. Here are the steps to take in your data clean-up:
1. Find and Merge Duplicates
Most CRMs now come with an automated "De-dupe" tool that will search your database for duplicates and merge them. In Zoho CRM, for example, the de-duplication tool will automatically merge records that are identical based on the fields you choose (i.e. Lead Name, Email, and Phone). If there are some fields that are identical, but not all of them, then you as the individual user must decide if these are duplicate or just incorrect data.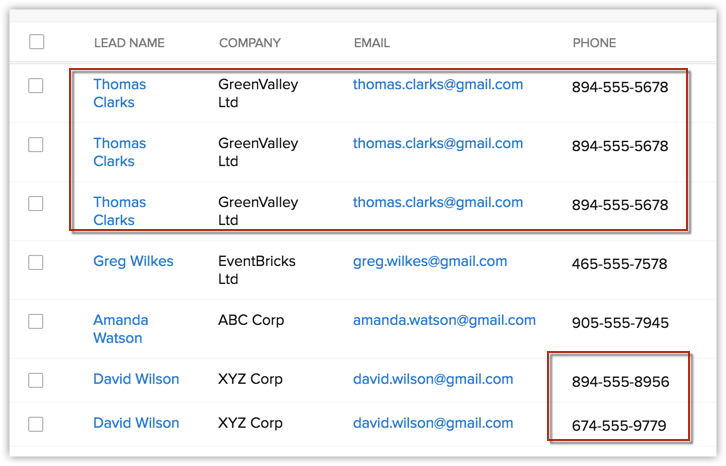 2. Delete the Junk Leads
This should actually be a monthly practice. If you have not already started this practice, this is an easy win for cleaning up your CRM. It always happens that junk leads get into your CRM. These may be the leads who have incomplete information, incorrect data, or they simply have opted to not stay connected with your organization.
We use the Lead Status in the Leads module of our CRM to label those people who are junk. You can do this manually or through different workflows or automations. At the end of each month, quarter or year you should delete those leads.
This is also a good reminder as to why it is important to keep your Leads / Prospects separate from your qualified Contacts (actual Clients, Customers, Partners, and other known contacts).
3. Sort Through Leads / Contacts Strategically
To help you find which leads or contacts to focus on, filter records based on fields that you see as most vital. In the Leads, the best fields to filter by may be the Lead Status, Industry, Title, Lead Source, or Last Contact Time. For your established Contacts, you may want to sort or filter by the Relationship Type, Last Contact Time, or Company Name.
Once you know your filters, you can methodically review the most important records first. This may also be a smart way to divide up records to have multiple team members review. Perhaps the sales team will review only the Leads and divide them up by region. While the account management team reviews all of the Contacts and Companies, dividing those up by product or service offering.
This is definitely the step many companies avoid having to do because it can be so tedious. The best way to avoid having to do this work is to always be reviewing records.
Preventing Bad Data in Your CRM
There are a few simple steps you can take to avoid getting into a situation where your CRM data is unreliable. It requires regular maintenance, just like any other resource in your organization. Take these steps to avoid the trouble...
1. Create a Standard Process
Your sales and marketing teams should be cycling through leads and contacts in real-time. This is a constant process of verifying data, filtering into lists and deleting contacts when necessary. Remember to leverage the built-in tools within your CRM to help make this easier (de-duping, data enrichment, etc).
Define the most important fields in your leads and contacts. Then you can figure out who is interacting with those people in your database, determine who to delete, and who to keep.
2. Field Customization
An often overlooked improvement to any CRM is defining certain fields as required. Most CRMs will make the email field required because it is used as the unique identifier for the lead or contact. That is great. However, there is probably other key information you need that should also be required.
In the Leads module, you may want to make Lead Status and Source required fields. That way you always know at what stage in the qualifying process a lead sits and where he/she originated from.
Another helpful tool in Zoho CRM, that probably exists in other software platforms is called a validation rule. This allows you to create error messages based on how data is entered into a field if it is incorrect.
A third helpful tool is dependency rules or conditional rules. This allows you to manage dependency between fields. For example, if a Contact record is marked as being a "Current Client" in the field called Relationship type, then a field called "Working Anniversary" is now required. This forces the person updating that Contact record to also fill in this second field.
Feeling Overwhelmed by Your CRM Data Clean-Up Project?
You don't need to go at it alone. There are companies who exclusively specialize in database clean-up projects. An alternative is to work with a CRM training and consulting company like Beckmann Collaborative. We work side-by-side with our CRM clients to empower them, rather than have them be dependent on us. It's usually best to let us do the "annoying technical" stuff that is done one-time and to learn the on-going maintenance for yourself.