How to Use Customer Data to Improve SEO Campaigns
Mar 09, 2023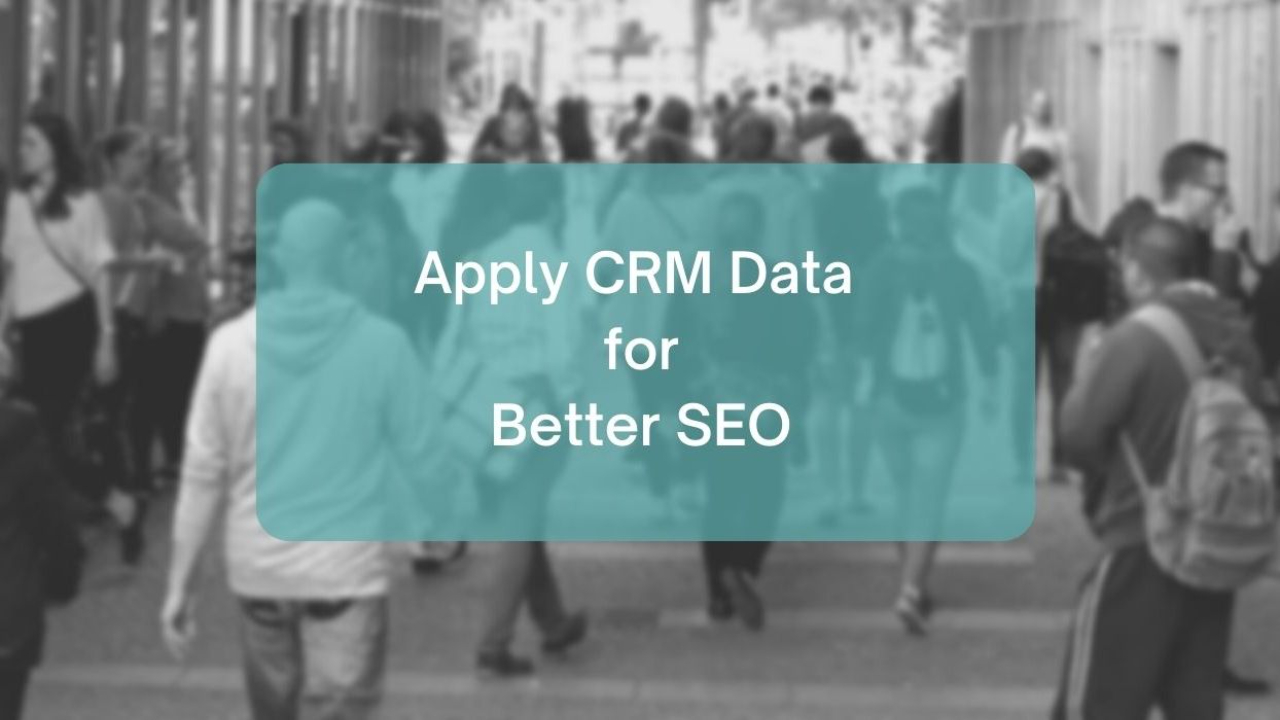 In the past, we've talked about using your customer intelligence to improve content marketing. This article digs in further at how you can be generating more website traffic with SEO by leveraging your CRM data. Businesses rely on online visibility to attract new customers and connect with existing ones. Today, search engine optimization (SEO) remains one of the most effective ways to solidify a business's digital presence by ranking high in search engine results.
According to data from StatCounter, Google remains the search engine market leader at 93% of search traffic as of January 2023. Bing is the closest competitor with 3% global share while Yahoo!, Yandex, Baidu, and DuckDuckGo share the majority of the remaining 4% search traffic.
You can find out about your website's search engine traffic in your Google Analytics under the Acquisition reports and changing the dimension to Source/Medium.
[Want help with this? Email us ]
Your business has a higher chance of being exposed to potential customers searching for relevant keywords on Google in your niche — as long as you continually work on your SEO ranking. If your business already uses customer relationship management (CRM) software like Zoho CRM, then you can optimize your SEO strategy using your CRM's customer and business relationship insights. In this article, we'll look at how CRM can boost your business's SEO ranking.
Customer Data to Improve SEO Campaigns Strategy
A CRM can offer a guiding light for improving your SEO campaigns. Integrating your SEO tools with your CRM system can help you to leverage insights from the people clicking on your business' website and the conversions you generate.
An SEO campaign is a coordinated effort to improve a website's search engine rankings. Common elements of SEO campaigns include finding keywords, publishing content, and creating backlinks.
If you're already using CRM software, then you have a rich database of incredible customer data that should inform your SEO campaigns and content marketing. For example, you may want to compare the industries where your Leads are coming from against where your current client Accounts are from. Comparing the industries where leads come from to those who actually convert helps to adjust the content and SEO keywords being used in both organic and paid content.
If you have a high conversion rate among financial professionals, for example, then you may want to create a dedicated landing page that speaks to the questions, objections and needs of that target audience.
This approach reduces the trial-and-error approach that usually comes with SEO beginners by ensuring your optimization efforts are data-driven and catered to appeal to your current and potential new customers. Instead of testing out a broad series of search terms, you can focus on testing things like headline copy and CTAs on a landing page for improving conversion rates.
Keep in mind that the longer someone is on your website and the more they engage, the better your search ranking will be. Google and other search engines know that the best quality websites are keeping visitors engaged on-page.
Also check out the post "5 Simple Strategies for Attracting Visitors to Your Blog" emphasized the importance of optimizing the contents of your business' website for SEO to achieve better blog and website visibility.
Improve PPC campaigns
While SEO and Pay-per-Click (PPC) are different marketing strategies, we all know that PPC impacts organic SEO campaigns. The best strategy is to integrate the two for the best possible results.
PPC refers to search-based advertising where advertisers pay every time a user clicks on one of their ads (i.e. Google AdWords). This is how you drive traffic from paid search, whereas SEO campaigns usually focus on organic search.
Despite the obvious differences, an article from Ayima on SEO and PPC notes how they can converge on three key themes:
data sharing,

optimization, and

strategy.
Integrating your PPC and SEO campaigns helps amplify your reach and quickly adjust your campaigns. When you merge data from each one, you can see the current trends within your niche or among your target audience. It's a smart way to improve conversion rates, click-through rates, and reduce wasted ad spend on the wrong keywords or content.
While PPC and SEO are different methods, we recommend running joint campaigns with overlapping keywords and testing different calls to action. The second step is to connect your PPC campaigns with your CRM - many platforms have this as a built-in integration with Google Adwords. In theory, you will be able to track the source of your Leads (i.e. Google Search, LinkedIn), but also the specific campaign and maybe even the keyword that brought them to convert. The insights from your CRM can also show where the majority of your website traffic is coming from and whether your customers are responding to your SEO or PPC campaigns.
Apply Personalization
Using insights from your CRM, you can personalize your SEO campaigns. MarTech's feature on personalized marketing discusses how to use CRM customization capabilities to personalize brand messaging and digital content. Ultimately, these insights can be used to improve your SEO campaigns too.
Data from Google Analytics, Google Search Console, and SEO-specific platforms is often the primary source of insights to guide your SEO campaign setup. Using your CRM tools (such as A/B testing emails) on existing customers and leads, then that data can allow you go beyond the basics such as language and location based search. You have the potential to create a more personalized customer journey from the top of funnel content (for those ice-cold leads) and convert them faster. That's a win-win!
In this age of automation and digitization, customers seek more personalized experiences. Meeting them halfway using personalized SEO strategies can help your business stand out among competitors.
A first step to boosting your digital presence is to lean into your CRM data for insights about your existing customers and how they engage with your content. Integrating your SEO strategy with these insights is an actionable approach to ensure your marketing efforts are created based on what your customers need and want from your business.
---
Co-Authored by: Faye Bush and Candice DeRiso
Faye Bush is a freelance writer specializing in SEO and other digital marketing topics.
In particular, Faye is interested in the ways that digital solutions can transform how brands reach their audience.
Aside from writing and reading, Faye enjoys listening to book podcasts for fiction recommendations.